The Larsen Family​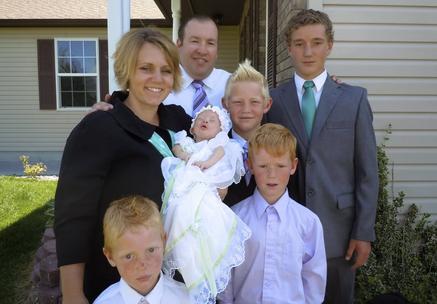 Rochelle Larsen is BrynnLe's mom... Here are some thoughts she is willing to share. Our first moments with BrynnLe were a little scary. The entire labor and delivery were very surreal. I just remember thinking that something was not right...it was not like the other times. Was it because I was so excited about having a girl? Was it because I was sad about this being the last time that I get to bring a sweet spirit straight from heaven? I didn't know. Something was just off. Looking back I was being prepared and I didn't really see or recognize the tender mercies that were happening all around me. I was being induced due to my advanced maternal age and the fact that her kidneys were swollen and the umbilical cord herniated. With those three factors the dr. felt it was best to induce and be able to take care of her outside of the womb. My body was not ready to go into labor so I had to use the Folley method and the Dr. said it would take about 12 hours to dilate at all! That was not the case, with in two hours I was ready to have my water broken! A bit later I was ready for an epidural, having gone natural with Abraham I didn't want to do it again! Things went pretty quickly after that, BrynnLe came out blue! She was quiet and blue! I was freaking out inside! I had been really nervous the entire time, but I held it together. Finally she made a little cry and they took her from me...it seemed like forever before I got her back in my arms. The nurses had to suction out her lungs and were rubbing her rather harshly to get some color in her. She was on oxygen for a few moments and then they gave her to me! She was perfect. Our last little one was here and I felt complete. I felt her strong spirit, her amazingly strong spirit. I knew then that everything was going to be fine! She met her brothers, who adored her and wanted nothing else but to hold and love her. She had over 20 visitors at the hospital. Then she was given a label....she has down syndrome. WHAT??? What did the DR. just say? My head was spinning and spinning. Looking back I know that all my uneasy feelings were small hints of what was to come. Eric and I kept that label to ourselves, with the exception of family until we had the results back. Even then we shared it with close friends, I didn't want her to grow up with a label. I had to sort out my feelings before I could share her with the world. I had to mourn the loss of the little girl I thought I was having. There were many emotions and confusion in my head. It took me a few good cries and then I was ready to share her.
Six months ago today my life was changed for the better. Six months ago our world was made better. I have learned more about myself, about my family, my boys, and who my real friends are. Some friends have gone by the wayside, and new ones have filled my heart! I have meet so many amazing people in this short six months. Our family is part of a world that we never were before! I cannot imagine my life without BrynnLe. I am so thankful each day for the things I am learning. I am thankful for a softened heart. I take joy in the little things in life. I know there are tough times ahead for us. I know that not all is going to be easy, but nothing ever has been. I still cry, I still mourn my loss and I think parts of me always will. I mourn the friends who have chosen to pull away. Sometimes I feel alone. But then I look around at my dear family and see that they are all I need. They fill my heart with happiness. Life is short and I hope I can always look back and recognize the tender mercies. I have an angel with me, BrynnLe is amazing! Six months ago my life was not quiet, but it was not complete. My life is full. My life is crazy, it is one full of love and admiration for all of my children. Down Syndrome will not define BrynnLe!
So what can I do about having a daughter with down syndrome? I can love her. I can give her the best life possible. I can adore her. I can spoil her. I can treat her like my other kids. I can expect great things from her. I can play with her. I can shop with her. I can dress her up and put huge bows in her hair! I can paint her nails. I can share her with the world. I can make sure she knows she is a daughter of God, that she is of royal birth and that she is amazing! I can teach her to be kind and accepting of others. I can show her a world where differences are accepted. I could go on and on, but I think you get the drift! I have also had to learn that not all people are accepting of change or things that are different. Down Syndrome was something I really knew nothing about, I didn't know anyone with Down Syndrome. Now that it is part of my life there is not a day that I am not thinking about it and how to spread the word. It is nothing to be scared of, nothing to be ashamed of and nothing that you can "catch"! I feel it is my mission to help others know what a wonderful world is out there and how differences make the world the amazing place that it is. Some people still don't want anything to do with us...I think they may be scared of what to say or not say. The worst part it that not saying anything to me is hurtful and I would rather answer questions and educate others then have them pull away. I know my life has changed as well as others, life is full of changes. I welcome them. I welcome the new adventures.
The Murray Family​
When we were 20 weeks pregnant with our sweet Eli we found out through an ultrasound that he had some medical issues.  After seeing a specialist a week later and some further testing, it was confirmed that Eli had Down syndrome.  To be honest our first reaction was sadness and fear.  Sadness over the thought of not having the perfect baby that we had planned for and fear over the unknown of what life would be like for Eli.  However, after he was born the fear and sadness almost instantly disappeared and we felt pure love and joy.  He was our perfect baby.  He had a rough start to life medically but after some months in the hospital and surgeries we got to bring him home and start life with his adoring big sister and us right with him.  He has been the biggest blessing to our family of four and to our extended family and friends.  He continues to grow and thrive!  His smiles light up the world!  My favorite saying is "see the ability".  There are many days that I forget Eli has Down syndrome because he is our Eli and the perfect addition to our family.  There have been hard days and I am sure there are many more to come but he is such a wonderful, happy, playful, and cuddly little man.  I thank God for him everyday.
The Jackson Family​
The Elison Family
Amy Elison is the mother of Isaiah. She had a few thoughts to share.. At the age of 33, Amy's chance of having a baby born with Down Syndrome was one in 625. Not very good odds. But, then again she said all of her life she's been lucky. Isaiah is the little angel that has blessed the Elison's family lives and has been changed for good and they will be ever grateful for the day that he came to their family. She said that having Isaiah's extra chromosome is a love chromosome. Having him has brought more love and miracles into their lives than she could ever imagine. He helps the Elison family make friends wherever they go.
The Hunt Family​
Karen Hunt shares her story - Our little Lacey was born on April 15th, 2011. She is our fifth child. After a great pregnancy we were excited to finally welcome her. She decided to come a little early by way of an emergency c-section! We weren't quite prepared for her but, we were excited to get to meet her. Immediately after she was born and taken to the NICU my husband noticed that she didn't look like our other children, he even googled "signs of down syndrome" on his phone. Our pediatrician also suspected down syndrome.. so much that he wanted to talk to my husband and I about it. Unless you've gone through this, it's hard to explain the emotions that go with this situation. Here you have a baby, in our case -- a healthy baby -- yet your grieving for the baby you thought you would have had. It's all hard to take in. These emotions are all personal. Some people are able to handle them quicker that others. Sometimes you think you have a handle on them, and then someone says something or you read something and the emotions come again. I think that is why a support group is so great, you have people in every stage of these emotions and you get to bond with each other. Our Lacey has proven to be the great blessing and yet a great challenge at the same time. She is capable of so much, yet she has to do it in her own way we are finding out. We treat her like we treat our other children, yet we are finding out we have to do some thing differently. It takes a lot of energy! As much energy and frustration that it requires to raise her, we would never trade her in a million years. She has become the glue in our family. She loves us unconditionally and has taught us more about love in her 3 little years that I have learned in my lifetime. She knows no stranger (which could be good or bad...), and will hug someone out of the blue. She doesn't understand that she is a little different than most people, and maybe she never will, who knows... but, I'm learning being a little different isn't bad, it's actually pretty great.
The Dalling Family
Cameron is the last and most perfect baby in the Dalling Family! He shares the same birthday as his oldest brother Wyatt on December 23rd. Cameron has many siblings to keep him entertained. Wyatt (15), Kody (13), Brigham (11), Hailey (8), Nathan (5) and Hannah (4).  Cameron has brought a special spirit into our home and we are so honored to raise him.  He is the 64th grand baby on his mommy's side and has 23 cousins on his dad's side. Everywhere Cameron is he has a cousin, aunt, friend or family member loving and adoring him.
The Williams Family
The Williams family consists of 5 boys; Seth (16), Jared (15), Mark (13), Tyler (8) and Riley (8).   We enjoy spending time together playing, being outdoors, and scouting. We stay busy chasing boys, following their sporing events and keeping up with their schooling. ~ Neil, Sarah & Boys.
The Heinrich Family
My son Geoffrey is the love of my life. He has had 19 surgery's and came through it all with a smile on his face. I would never change anything about him. - Tammy Heinrich (mom)
Geoffrey is my brother and I love to watch the Lego movie and play video games with him.
My name is Linda Williams and my sweet little grandson is Geoffrey Heinrich. He is 10 1/2 years old and has a great love for life and all he does. He loves to play sports and is a great Boy Scout.  Since day one he stole our hearts and we couldn't love him more. - Linda Williams (Grandma)
The Grant Family
The Grant family loves to play tennis, basketball, ski, ice skate and be together. Our little Kendall is not so little anymore, he is fourteen and loves school, basketball, and his buddies.  Having a child with Down syndrome has changed our lives. We're grateful for all the "new family members" we inherited because of our Downs connections.
The Palmer Family
Megan loves LDS church Seminary class. She had been changing kids lives.  We set her up with the kids who are  in trouble in class or  having other troubles and she has them help her with  scriptures, talks, and with other assignments in class.  Then  within a second their  hearts have soften and they are  happy and  doing great.   We have letters from those she has worked with who have stated that she has given them a change of heart.  One said he always came in angry  and then he would see Megan and would feel so much better.  She also loves helping make cookies.  Chocolate chip are her favorite.  Then we give them to people in the area who need to be  served a little happiness.  It is contagious.